As students enroll in (or add) your class, they will be added to your class roster. From the class roster, you will be able to view their email addresses, when they last accessed the class online, their status, and their scores. You will be able to change basic student account information (i.e., passwords, email address, etc.).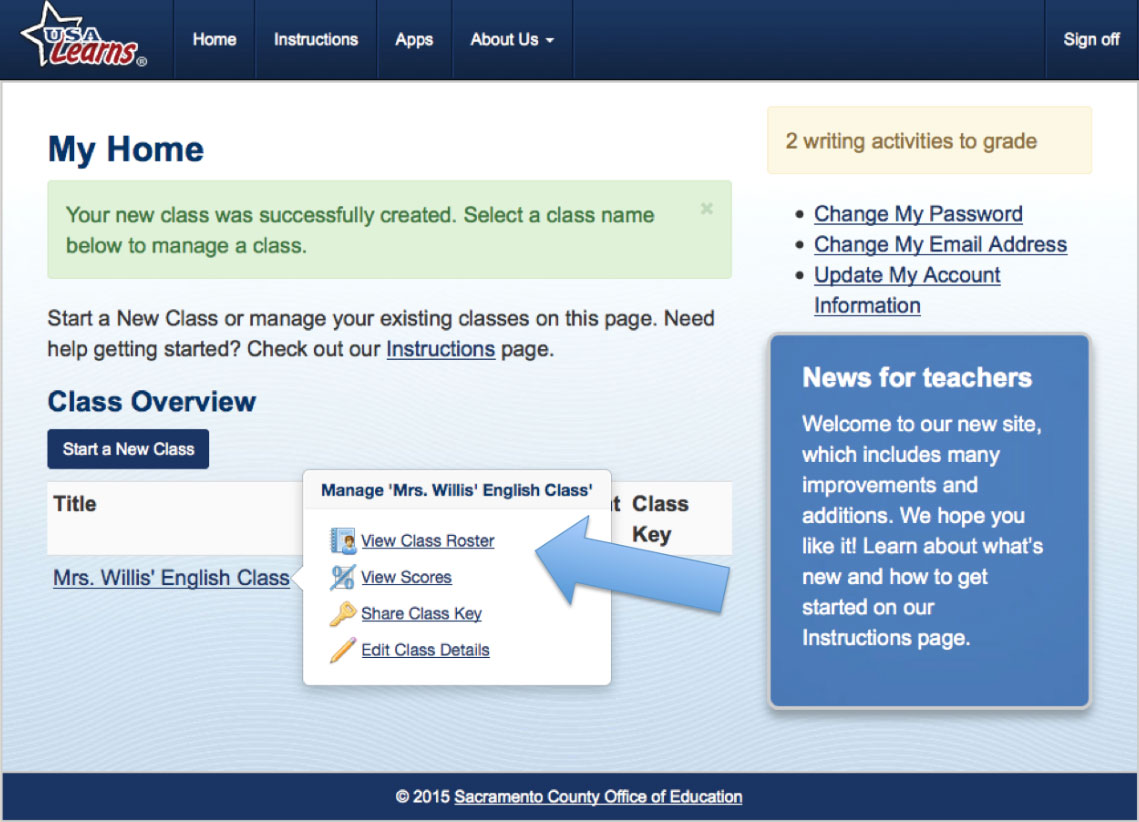 Here are a few quick tips to help you manage your students and classes in USA Learns…
Enrolling Students with a Class Key
After a student registers on USA Learns, he can then enroll in a teacher's class. To enroll in your class, the student will enter your unique class key, which you will provide to the student. The class key is auto-generated for you. Simply copy it from your class list on your teacher homepage or select the class title and then copy from there. You will notice various easy ways to distribute the class key to your students.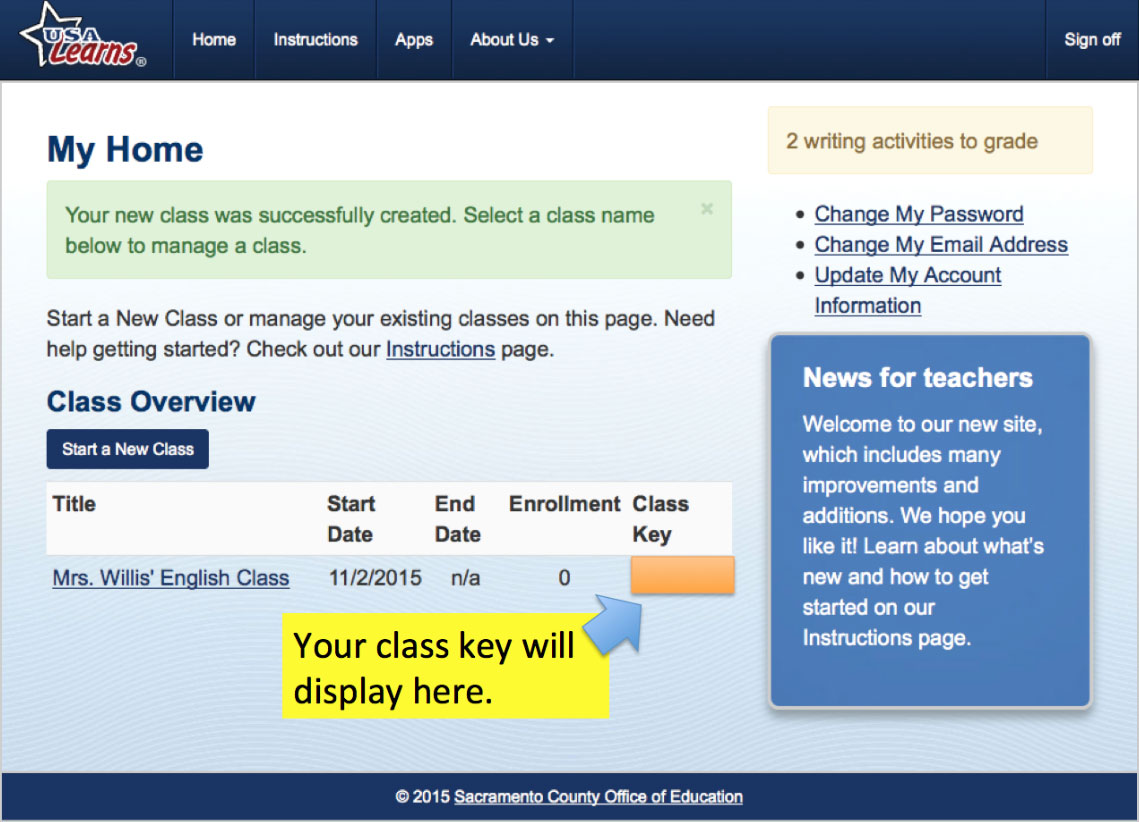 Change Student Information
On your homepage, click the class title in which the student is enrolled.
Click 'View Class Roster.'
Find the student on the list.
Click the student's name, then make a selection from the pop-up list.
If you make changes, please notify the student, especially password-related information.
Change Student from Active to Inactive
If a student is no longer actively taking your class, but you don't quite want to delete him, you can temporarily deactivate his account. On the Class Roster page, click the

in the 'Is Active?' column to change it to

. To change the student back to active status, just click the

again to change it back to a

.
Remove a Student
Follow steps 1-4 above.
In the pop-up box, select 'Remove from Class,' check the box and click Confirm.
Notes:
If you remove a student, he will be permanently removed from your class and not "attachable" to your teacher account.
Removing a student from your class does not remove any scores that the student has earned. Students retain their scores, and can resume the course as a self-led learner. Please share this information with the student, so he knows how this feature works.
If you delete a student in error, he can add the class key and be re-enrolled as a new student. The work completed by the student previously will no longer be available. Please use the delete feature with caution.
Student Scores
A summary of a student's grades and progress can be seen by going to the Class Roster and clicking a student's name. Select 'Student Scores' from the pop-up box.
Notes:
The new site no longer includes a "schedule a report" feature. A student's status and scores can be seen on-screen, without waiting for the report to be processed.
Class Management
Gradebooks
From your teacher My Home page, open one of your classes. As you drill down into a class you'll see the average scores of the students in that class. Select the scores by holding down the left button of your mouse and dragging down. You'll see the scores highlight. When finished, select CTRL+C (copy) to copy the text. Then open a Word or Excel document (also Docs or Sheets) and select CTRL+V (paste) on your keyboard. The text that you selected should retain its column format and, within Excel or Sheets, you can generate reports using query functions.
Do the same for individual student grade reports.
Do you want more tips for using USA Learns as a teacher? Visit our Instructions page.